It's time to honor the Class of 2023. Remember, once a Red Fox, always a Red Fox!
This graduating class has achieved much both on campus and beyond, and it's time to celebrate their success. »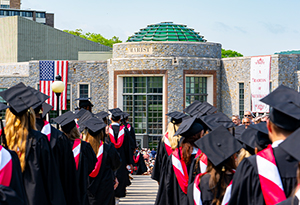 Your Commencement 2023 Resource Center
Event details, regalia, FAQs and more in one location. »
Snapshot
Marist Athletics celebrated its graduating student-athletes at the annual Senior Awards Banquet on Tuesday, May 2. Among the winners were the Sportspersons of the Year, which is presented to the top female and male student-athletes over the course of their athletic careers.Photographed from left to right are men's co-winner Glenmour Leonard-Osbourne (track & field, football), women's co-winner Calista Phippen (softball), men's co-winner Ahmed Sallam (swimming), and women's co-winner Shinae Carrington (water polo). Photo courtesy of Marist College Athletics.
Marist College | Marist Archives & Special Collections | Contact Us